We have a range of well qualified and experienced coaches who offer their time to the club free of charge. Most of which have came up through our scholarship scheme after starting out their own paddling journey at the club.
Andrew Boyd
Andy started paddling in 2000 and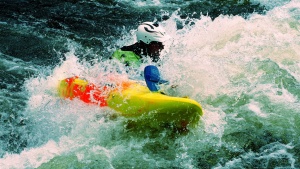 achieved his BCU level 2 coach in 2006 at the age of 16. He has been coaching ever since. He regularly paddles canoe and kayak and on advanced water. His passion is for passing on his knowledge and skills onto others especially in intermediate to advanced white water.
Qualifications:
5* White Water Kayak River Leader,
3* Canoe,
British Canoeing Level 2 Coach, 
Moderate and Advanced White Water Kayak Endorsed Coach,
Advanced White Water Saftey and Rescue
16 hour Outdoor First Aid.
He also provides 2 and 3* assessments for the club.
Nathaniel Green

Nathaniel started paddling in 2008 and began whitewater kayaking whilst studying at University three years later. He was actively involved in running the canoe club at the University alongside his degree. Since joining Cleveland Canoe Club he has begun working towards the British Canoeing coaching and leadership qualifications with assistance from Cleveland Canoe Club. He paddles as regularly as is possible and enjoys encouraging others to learn and be involved in the sport.
Qualifications:
4* Whitewater Kayak Leader (trained, to be assessed!),
3* Whitewater Kayak,
British Canoeing Whitewater Safety and Rescue Training,
16 hour ITC Outdoor First Aid,